Custom fire department crests, patches, and embroidery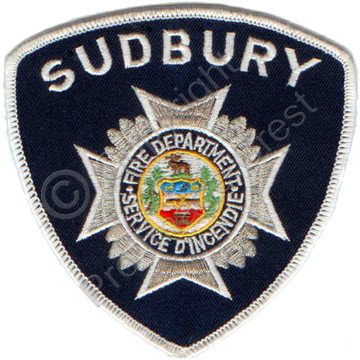 Why is a firefighter is still instantly distinguishable, even when not decked out in turnout gear and helmet? It's thanks to that small yet important symbol, the embroidered fire department crest

(or
fire department patch
in the U.S.). Whether you know it best as a "
fire department patch
", "
fire department crest
", "
firefighter shoulder flash
", or something similar, the embroidered fire dept. crest is immediately recognizable. The common feature linking almost all fire department embroidery designs in Canada and the U.S. is the Maltese Cross. In the sixteenth century, this cross style was adopted by the earliest known firefighters, the Knights Hospitaller (The Order of Saint John), A.K.A. the Knights of Malta, and it has come to symbolize courageous rescue and the preservation of health.
Custom fire department patches & crests by Canada's custom embroidery experts.
Pro Image Crest is the manufacturer and proud supplier of the finest quality custom fire department embroidery available. Precise stitching, bright colours and a tough yet satiny finish are only our starting point. Let us optimize your existing crest design for maximum clarity and readability while preserving or increasing its visual impact. And usually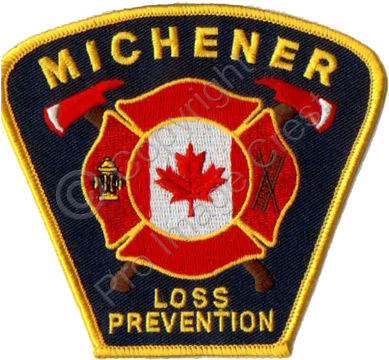 you don't have to make any drastic changes to your crest to improve its design quality; often a subtle change will yield dramatic results. Our team includes talented graphic design artists as well as skilled marketing people who know how to make a visual message loud and clear, while preserving its style and class. So let's give them your fire dept. crest and see if they'd suggest any changes. Or if you prefer, let's work together to revamp your crest enough to give your department its own style and flair, and incorporate some of the elements that make your area unique.
This service is free
with your order - it's our pleasure to support the firefighting industry. The only cost to you will be the time you spend looking over the suggested design update and deciding whether to approve it as is or request any changes. And you're free to make changes until you do like it, so you can try out all your ideas - even experiment with silver or gold metallic thread.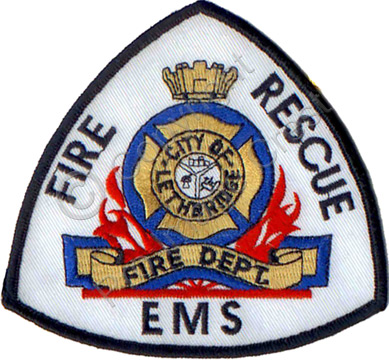 If you're unable to look over and approve a design update, no problem -- just fax or e-mail us a colour scan or photo of your existing fire department patch and we'll give you a free price quote on making exact duplicates.
See our Embroidery Options page for information on thread and backing options and free design service options.
We take pride
in our workmanship and in our customer service, and we
triple guarantee
your satisfaction: you'll get premium quality, the best price in Canada, and your order will be delivered on time. You'll be glad you chose Pro Image Crest, Canada's custom embroidery experts. "We make you look good."
If you're ready to see some pricing
for your next order of fire dept. crests, click "
Get Prices
" and use the convenient form to tell us what you need. Feel free to use the Comments area if you have any comments or questions. We're happy to answer all your questions and discuss any details of our custom fire department embroidery. No pressure or obligation, just free info! We're here to to help you get what you need. And if you do decide to get it from us, you'll get a quality product, a great price, and outstanding service.
(We don't keep or sell your information. We use it for no other purpose than to send you your free quote and answer your questions. See our Privacy Policy).
---
Related Items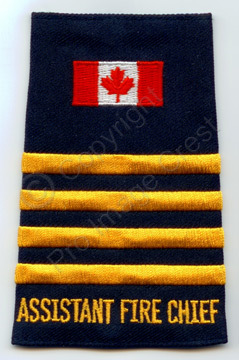 Custom
slip-on epaulettes
by Pro Image Crest are among finest quality available. Any shape or size, as simple as a single stripe or as complex as you can dream up - you can even have your multi-coloured logo included on your epaulettes. Available in any quantity (sold in pairs). For more information, please see our
Epaulettes
page.
Please use the menu at the top left to learn more about us and our products and services, view some samples, contact us or get a free price quote on your crests or on some direct embroidery.